Salvadores de Animales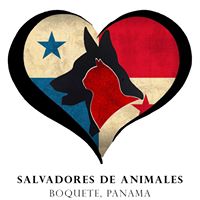 Salvadores de Animales, Inc. is a 501(c)(3) non-profit corporation operating in Chiriqui, Panama. Our primary service area is the David/Dolega/Boquete corridor. Our mission is to enhance the lives of companion animals and support the community in greater Chiriqui, Panama. We provide rescue, foster, veterinary, and adoption services for dogs and cats. We also provide community services such as wellness clinics, and support other local pet helpers. We assist feral cat caretakers in the Boquete-David corridor, who feed, trap, and sterilize feral cats in the Boquete area, and then return them to their home territory to live out their lives. By saving lives and promoting the human/animal bond, we seek to improve the quality of our community for all.
We depend on donations from the community to help us to feed and provide medical care to foster pets and those of other pet helpers in the community. Many of our rescued animals are sick or have been seriously abused. All our fosters are sterilized and vaccinated. We depend on our community to provide foster homes until a loving, forever home is found. We are strongly committed to the foster care model because it provides critically important individual attention to each animal, and helps that animal heal and transition successfully into home life. We need support from community members to make this happen.
+507.6817.8523
info@saldea.org