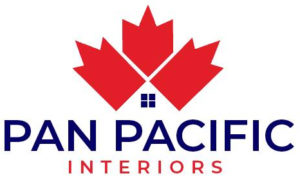 Pan Pacific Interiors provides YOU, our clients, with luxury cabinets, stone countertops, vinyl plank flooring as well as appliances, luxury cabinet accessories, sinks and faucets! We help make your renovation or new build easier with a one-stop shop approach and excellent customer service.
We begin with a discovery meeting to get the important information to make your FREE quote with 3D design. We meet with you to review your design, explaining all the details, benefits, and inclusions so that everything is very clear. If you choose to sign with us, we take detailed site measurements with our laser technology, get all the appliance details, and update the drawings, which we send to you for final approval. Our state-of-the-art manufacturing facility including cutting edge CNC technology ensures accuracy and quality. The assembly process is efficiently done, and your project is set up full size at our facility for you to inspect before install, enabling you to view your job before it is installed. Our in-house installation team has a high standard to reach and they do it well and are only done when your project is completed to your satisfaction!
Showroom +507.786.5095
Sales +507.6920.2573
info@ppipanama.com
Here are a few words from some of our past clients about their experience working with Pan Pacific Interiors: (find the full reviews on google)
"…builds the best quality kitchen I have ever installed in the last 25 years of building here." "They always return your calls, answer your questions and work with you through the whole process."
Kjersten Van Horn
"They were easy and very pleasant to work with." "They clearly explained our design options and pricing…" "The installation was flawless and the cabinets still look great three years later."
Sherrie Tullsen-Chin
"We were pleased to find such a modern factory just a few kilometers from our building site." "Because the entire design was custom we were provided with options that surprised us…"
Maxine Andrews
From the initial planning and design through to installation they provided outstanding service. "…used modern computer manufacturing techniques for the design and construction. Everything fits as it should."
Barry Robins
"I have a beautiful, efficient kitchen… it has become a masterpiece. Prices are very reasonable and the owners and staff are a delight to work with."
Susan Peterson
I don't like my kitchen — I LOVE LOVE LOVE my kitchen! They were efficient and painstaking in their work and kept the "mess" to a minimum. I was — and am — delighted!
Brandy Gregory
map