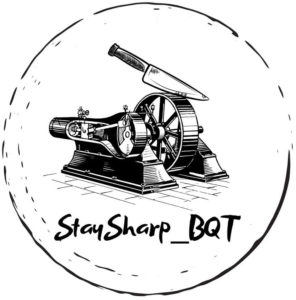 We offer precision specific angle control in sharpening, reprofiling, and repairing just about anything with an edge whether it be of convex or hollow grind.
The very best guided systems from around the world are utilized for consistent repeatable results with the minimal material loss possible. Edge refinement from standard machined face all the way to a truly mirrored finish is possible depending on how far you would like to go.
BESS certified equipment accurate to one gram of resolution is available for proof of before and after sharpness testing.
Sharpening takes place every Sunday as this is not our primary business. Knives will be ready the next day on Monday. If it is an emergency we will do our best to accommodate. Drop off and pick up will be from my shop.
$5 flat rate up to 12"
If the blade is damaged or needs to be reprofiled,
that starts at $10. Case by case basis.
$2 additional for BESS certified sharpness test
with proof of life pic.
For a full tune up of a mechanical folder with
BESS cert sharpness test is $20.
Kitchen Scissors $8
Sewing Scissors $4
Chisels $4
+507.6968.2295
staysharpbqt@gmail.com